Amber Arcades
The Dome, Tufnell Park, London.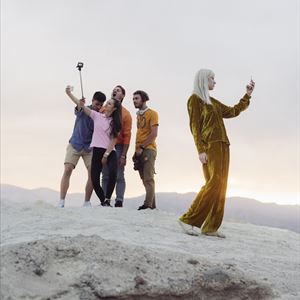 14+ only. 14s to 16s must be accompanied by an adult. No refunds will be given for incorrectly booked tickets.
More information about Amber Arcades tickets
Amber Arcades is the moniker of Dutch-born musician Annelotte de Graaf.
"If it were called American Heartbreak, you wouldn't bat an eye," says Annelotte De Graaf of her second album as Amber Arcades, the stunning European Heartbreak. "American" as a prefix has entered pop culture's lingua franca, a way to add gravitas by prefacing a noun with that national adjective. But "European"? People don't often try that. "Somehow calling it European Heartbreak feels far less comfortable, almost like it's a statement in itself," De Graaf says.
It's a perfect title for the record, though – for a selection of songs that flit around Europe, from Berlin to Spain to the south of France. One song, "Goodnight Europe", even addresses the pan-European disenchantment that has given rise to right-wing populism, and sees De Graaf wondering whether people like her must shoulder some of the blame: "Europe, it's not you / I'm starting to think it could be me," De Graaf sings, "My left ideals / And university degree." It's European not just in lyrical theme but in the sly sophistication of its music: songs that carry with them the air of open-topped cars on clifftop roads, of cocktails on the terrace at sunset. And then the lyrics undercut that sunny mood, artfully and skilfully.
European Heartbreak is a leap on from Amber Arcades' debut, Fading Lines. First there's the depth of its lyrical themes – "alienation, the fluid nature or memories and human concepts like nationality and the human condition" – but there's also the fully realised musical aesthetic of the record, which is more melodic than Fading Lines, more compelling, but with a delicious lightness of touch, alongside quirky garage rock on "I've Done the Best" and "Where Did You Go".
A Rockfeedback Concerts presentation