Songhoy Blues
EartH (Evolutionary Arts Hackney), London.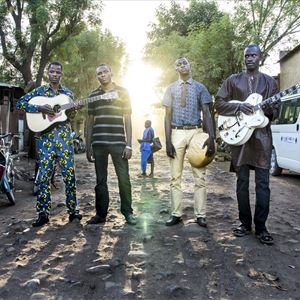 16+ only. 16s to 18s must be accompanied by an adult. No refunds will be given for incorrectly booked tickets.
More information about Songhoy Blues tickets
Songhoy Blues were formed in 2012, when three musicians from northern Mali – Aliou, Garba Touré and Oumar Touré (they are not related) – fled to the capital, Bamako, after the Islamist group Ansar Dine took control of the region, banning music among many other things. The three met in Bamako, recruited drummer Nathanael Dembelé, and a band began. "The band was born from war and sent into exile," Aliou says, "so the second album is called Résistance, That's the word to describe us keeping going, and building on what we said on the first album."
As Songhoy Blues travelled the world, they kept encountering the same portrayals of Africa: not as a vibrant, breathing continent of 54 countries, encompassing dozens of languages, ethnicities, and cultures, in which millions upon millions of people live fulfilled and productive lives, but as some homegenous mass of despair, war, famine and poverty. "The media talk shit about our countries," Aliou says, "because you get more viewers for bad news than good news. When you wake up in the morning, you put your TV on and the first news will be bad news from somewhere else. That's why we have a lyric saying that one tree that falls down makes more noise than a forest that grows up."
On La Resistance, Songhoy Blues don't lecture the audience about Africa. They paint a picture of their part of the world with humour and defiance, using special guests to make their points for them, where appropriate. On Sahara, Iggy Pop appears, drawling Songhoy Blues' message about the difference between the world's idea of sub-Saharan Africa and the reality: "It's got a bad reputation / In the developed nations … It's got a genuine culture / No Kentucky Fried Chicken." As Aliou puts it: "The track we made with Iggy Pop is talking about the beauty of the Sahara, to bring people in the Sahara to life: Africa is a beautiful continent to discover, so we needed someone legendary to talk about that, so people would really hear. Iggy is not alone: on Mali Nord, the UK rapper Elf Kid offers a call to arms: "Rise up, 'cos Africa's waiting!" The Liverpool trio Stealing Sheep also pop up on La Resistance.
"It was a dream come true to have a legend like Iggy Pop on the record," Aliou says. "When you tell people you made a track with Iggy Pop, they never agree, they just say: show me a picture. I'm sorry, I don't have a picture because he recorded his part in the US, we recorded in London. They say it's not true. I can't wait to take a picture with Iggy Pop and show it to people: we definitely made that thing together."
One key thing that has changed since Songhoy Blues made their debut album, Music in Exile, is the state of Mali itself. While it is far from a peaceful place – in January, 80 people were killed when an explosives-laden vehicle was driven into a military camp near the town of Gao; also that month the Festival Au Désert in Timbuktu had to be cancelled for fear of an attack by Al Qaida – the situation is markedly different to the one when the three Tourés were forced into exile. In late April, the government in Bamako was able to install interim authorities in Timbuktu and Menaka in the north of the country, ending a standoff with Tuareg separatists that had prevented the transfer of power back to the government.
"Things are getting better," Aliou says, "but it will never be like it was before. It's like when you break something and glue it back together again – it's very different to something that was never broken. With the lyrics of Résistance, there are a lot of things going on around us that we need to talk about. Our music is all about actuality. The situation in Mali now is different from 2012: it is getting better, so the lyrics we wrote are all about that. Not just in Mali, but outside Mali. And the way we wrote music changed with the way things were going on around us."
But some things do not change in the world of Songhoy Blues. Because whether Mali is in the grip of strife, or pulling itself back together, the essential message of the music made by the group remains the same, one of communicating the joy of music.
"When I'm on stage I need to feel the music I'm making," Alious says. "And I bring people with me to have that feeling with me. I'm kind of in a trance when I'm on stage, and I always want to share that happiness. I want to share that happiness and love."
Résistance shares that happiness and that love. And, along the way, it offers so much more.
A Rockfeedback Concerts presentation