Teleman
EartH (Evolutionary Arts Hackney), London.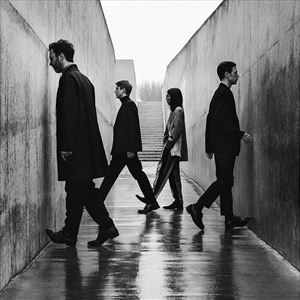 16+ only. 16s to 18s must be accompanied by an adult. No refunds will be given for incorrectly booked tickets.
More information about Teleman tickets
"For Teleman these days, the door is wide open to anything we get excited by and want to try our hand at," says Thomas Sanders. "And that's a great feeling."
One might call Sanders Teleman's singer-guitarist, except on their fabulous third album, Family of Aliens, roles are less clearly defined. The result is a fluent, fluid album of glorious pop songs, sometimes effervescent, sometimes foreboding, sometimes melancholic, united by melody, always melody. "I'm on a gradual journey away from the guitar," Sanders says. "It's quite restrictive. I write mostly on piano now, and I get very excited by electronic sounds and textures. The new record has some tracks which are just drum machine rather than Hiro [Amamiya] playing acoustic drums. It's good to have those different textures."
Though Teleman have been a band since 2012, their history stretches back long before that. Sanders and his brother Jonny (keyboards) have known bassist Peter Cattermoul for more than 20 years ("We gravitated towards each other – there wasn't a great surplus of creative people in our neighbourhood. We've been making music together ever since"). For eight years, the three of them were the core of the beloved indiepop band Pete and the Pirates, before changing changing tack and founding Teleman with Amamiya.
Sanders says the group has become "like a weird family. Making this last record I realised how much we rely on each other. We have our disagreements but if we always saw eye to eye, we'd probably never create anything interesting." They take the view that there's no right or wrong in music. They've experienced births and deaths, hard times and better times, but "music offers us an escape, and that's exactly what we hope other people find in it." Perhaps it's that sense of music as an escape that means Teleman are always finding something new to say with their music: Family of Aliens builds on and moves on from its predecessors, Breakfast and Brilliant Sanity.
"We were very conscious with this record of not regurgitating something we've done before," Sanders says. "I think that would get boring for us and for our fans. We want to keep evolving and keep discovering. This band is one long journey for us, and we never want to stop developing and finding new ways of creating music. I'm always wanting to better what we've done before. To go deeper, to find something more beautiful, more catchy, more challenging, more interesting … just more."
A Rockfeedback Concerts presentation